Advent and Hygge: The Art of Coziness (Personal Use)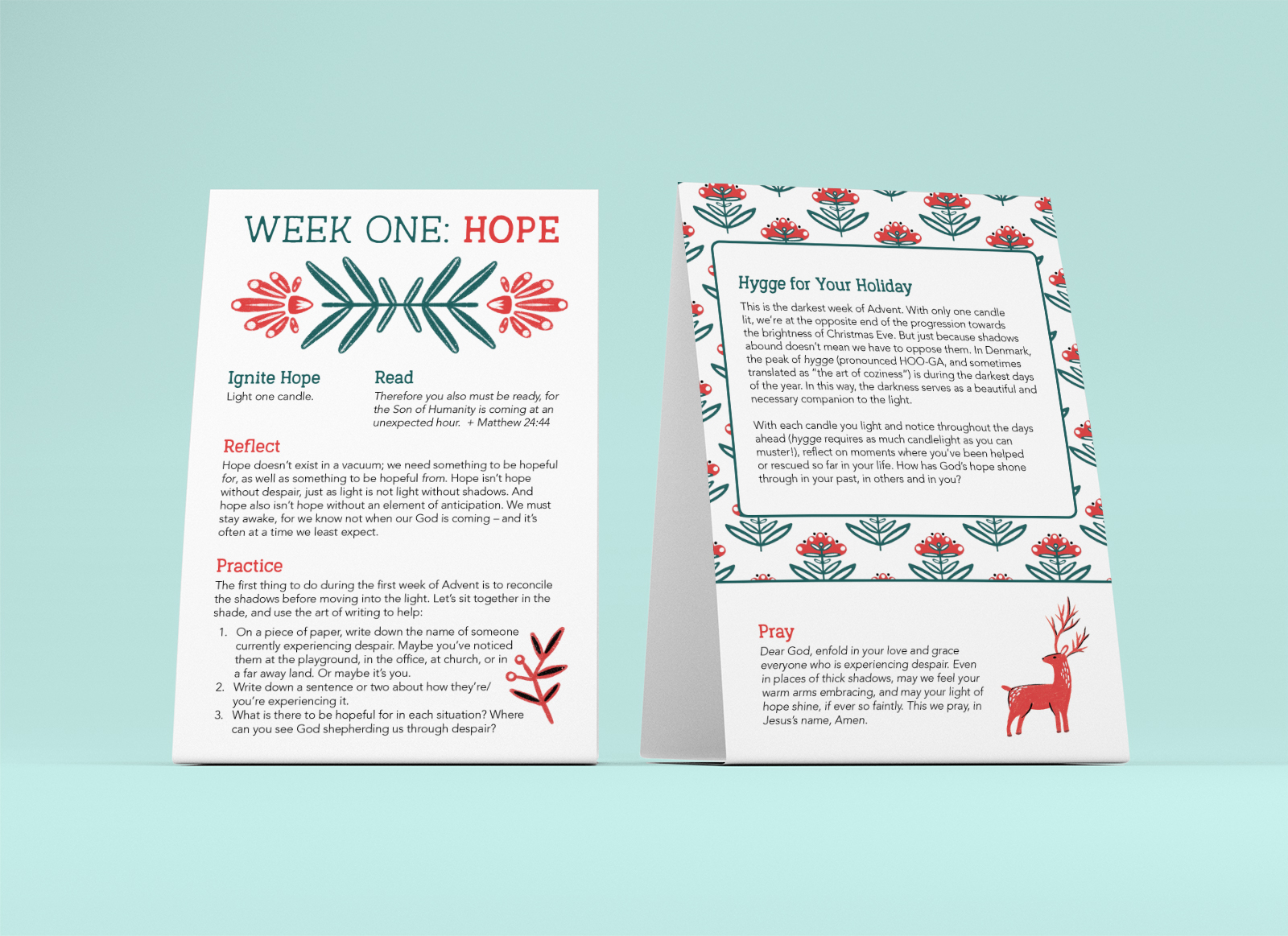 Advent and Hygge: The Art of Coziness (Personal Use)
"Advent and Hygge: The Art of Coziness" consists of five devotional table tents, one for each week of Advent (Hope, Peace, Joy, and Love), and a fifth for Christmas Eve/Day. Each tent features a lovely little table devotional, including a scripture reading, reflection, suggested practices, and a prayer.
Many have studied Denmark, the long-held "happiest country in the world," to pinpoint the aspects of Danish life that help bring about this happiness. Much of this can be summed up in hygge (pronounced "hoo-ga"), sometimes translated as "the art of coziness." At once an antidote to over-busy consumerism and a lovely reminder of what matters most, hygge is a perfect way for families to live into the season of Advent, lighting candles and snuggling in to what the Danes call "the duvet of darkness."
SALT teamed up with the amazing Jonas Ellison (one of the most-read spiritual writers on Medium) and illustrator extraordinaire Alina Shulhouskaya for this stunning set of printable table tents. Each order comes with two versions of the entire set: one in color, the other in black and white.
Files: This listing is for downloadable PDFs and comes with printing instructions. The tents are designed for printing on tabloid-sized (11x17) card stock; if your home or church printer cannot accommodate that size paper, Staples (or another local printer) can print three color copies on 11x17 card stock for around $2.50 (or less for black and white).
Please note: you will not receive a physical product as this is a digital download.
Finally, "Advent and Hygge: The Art of Coziness" is for personal/congregational use only, which means these pages may not be reproduced commercially, duplicated, or resold :)